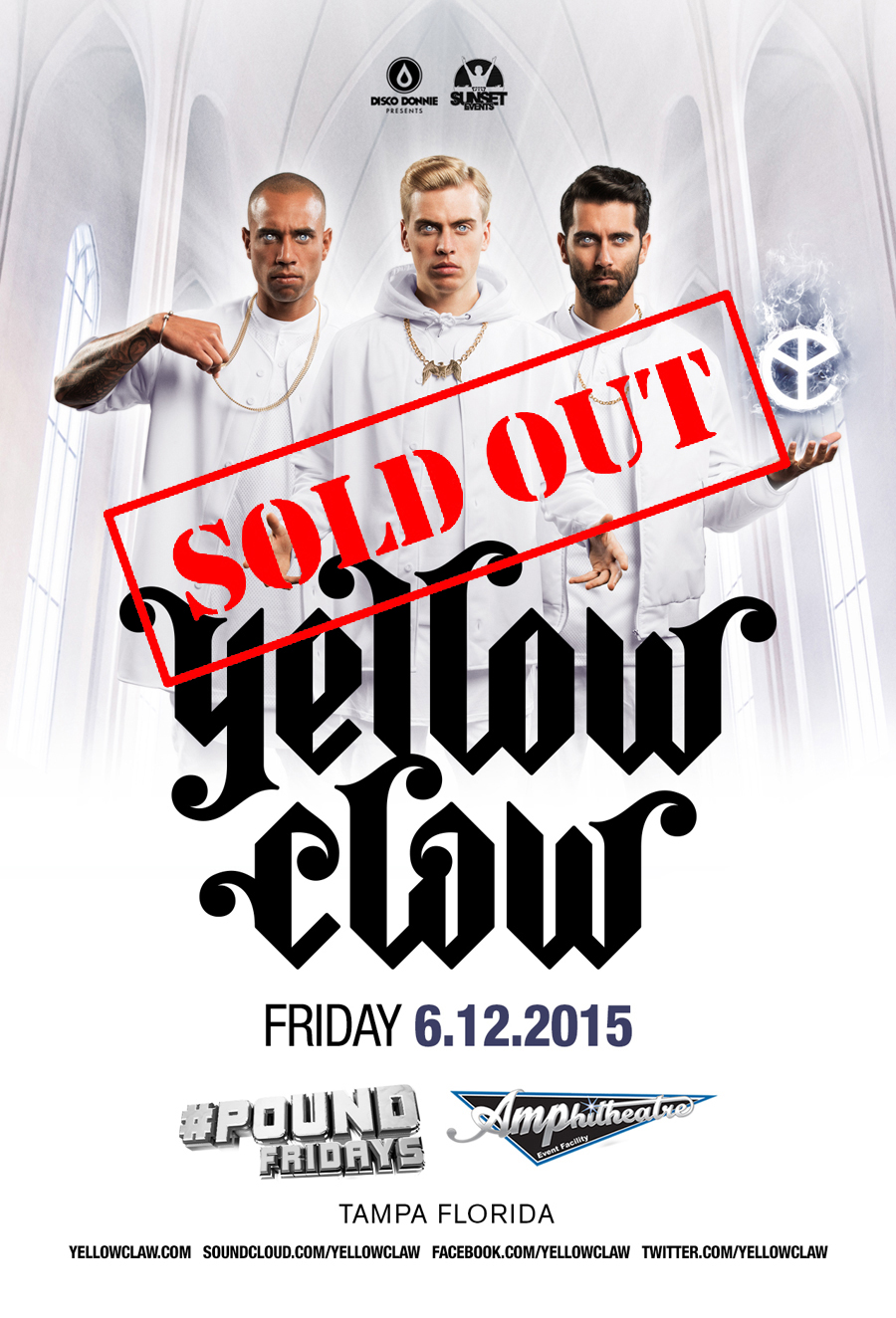 Yellow Claw at #Pound Fridays at The AMP
Sold Out
After bringing them to Sunset Music Festival in 2014 we felt they had to come back to The AMP for a special edition of #POUND Fridays on June 12th!!
Yellow Claw first gained popularity in the middle of 2010, after founding and hosting the Yellow Claw Thursday night party at one of Amsterdam's most famous night clubs, the Jimmy Woo. During 2012 and 2013, they released a number of successful singles, which charted on the Dutch and Belgian national charts: "Krokobil", "Nooit meer slapen", "Thunder" and "Last Night Ever". The videos for the singles became viral, each gaining over four million views on YouTube. During that time, Yellow Claw performed at many Dutch festivals, such as DirtyDutch Festival, Sneakerz Festival, Latin Village Festival and Solar Festival.
In 2013, Yellow Claw signed to Diplo's label Mad Decent. On March 7, 2013, they released their first international EP Amsterdam Trap Music. In June, they performed at Diplo and Friends on BBC Radio 1, and in July – at the 2013 Tomorrowland Festival. On September 26, 2013, they put out their second EP, titled Amsterdam Twerk Music.
On November 1, 2013, after signing to Spinnin' Records, the group released their first international single "Shotgun", featuring vocals from Dutch singer Rochelle. The song received remixes by Quintino and LNY TNZ on the Spinnin' Records sublabel SPRS. On November 8, 2013, Yellow Claw released a collaboration single with Flosstradamus, titled "Pillz", under Fool's Gold and Ultra Records.