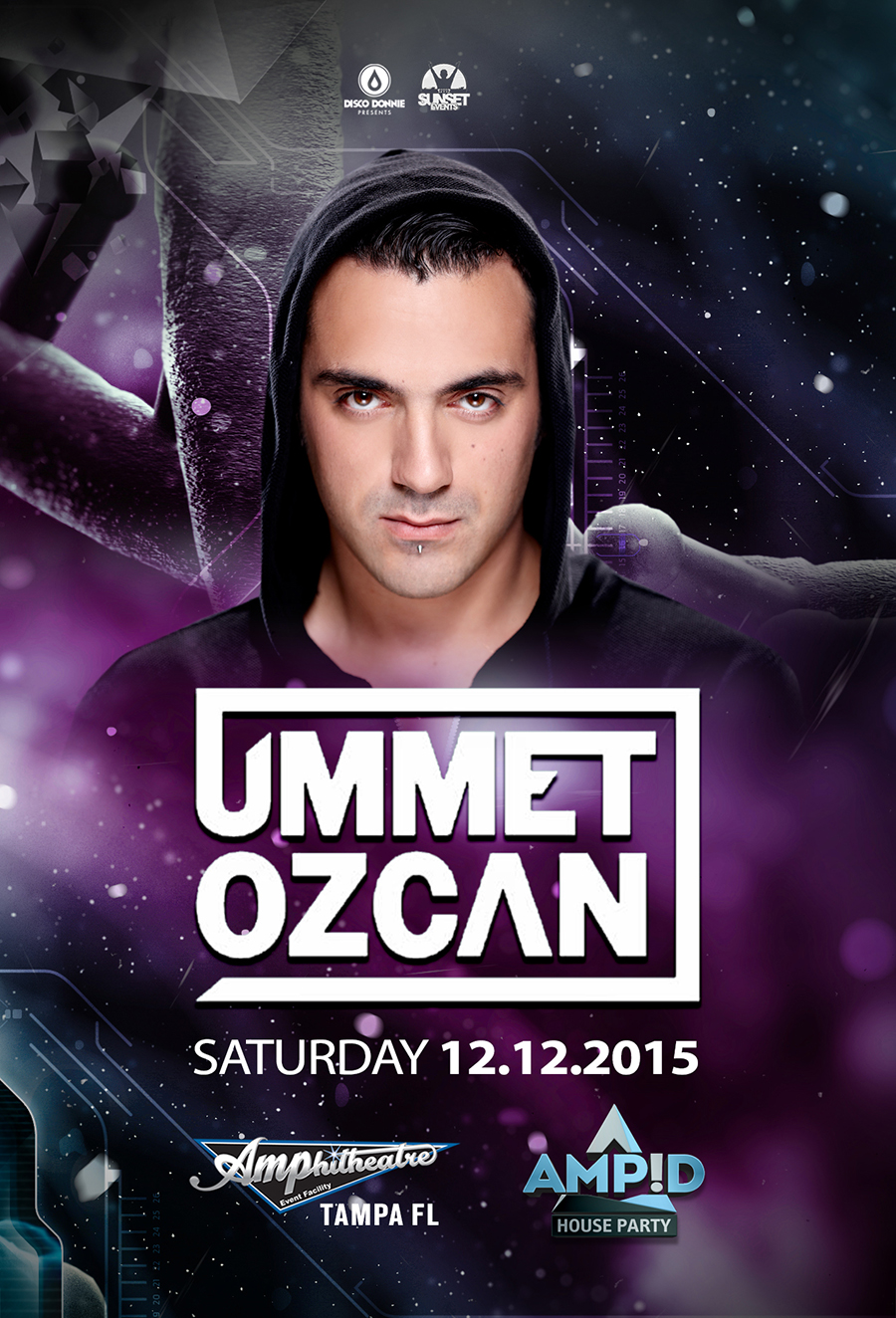 UMMET OZCAN at AMP!D House Party at The AMP – 12/12/2015
Buy Tickets
In an age where very few Artists break the mold and truly shine through as innovative artists, Dutch/Turkish star Ummet Ozcan is consistently reinventing dance music and raising the bar in every way. With Holland at the epicentre of contemporary dance music, Ummet reflects on the infectious nature of the genre saying, "The EDM scene has been very big there since I was a teenager. We've had dance music playing on radio stations for over 20 years now."
Indeed, growing up in the midst of this movement has been a great inspiration to Ozcan who is now at the forefront of this global phenomenon. Since achieving his first major success in 2011 with "Reboot," which spent 7 weeks at #1 on Beatport, the veteran DJ's handful of major hits have been sampled in his peers' radio podcasts and played at festival mainstages all over the world.
The seasoned artists speaks from experience, when he says, "Producing and DJing belong together; you make something in the studio and test it out in a show. DJing is fun, but producing is something I can do all my life and is the thing I started out with."
Ozcan's original pieces from 2014, "Smash!" and "Raise Your Hands" have become instantaneous hits, racking up millions of YouTube views while his collaborations with R3HAB and Nervo on "Revolution" premiered at #1 on Beatport and his joint effort with W&W on "The Code" was one of the most played tracks during Ultra Festival 2013.
It's no surprise that he's an in-demand talent who's playing to an international market with gigs at world-renowned clubs and festivals like EDC, Tomorrowland, and Global Gathering and at clubs like Avalon, Ruby Skye, Ministry of Sound and more. Despite his skyrocketing fame, the all-star headliner stays humble and focused, "I don't care for the fame, I care more about the hard work that goes into music making. I started making music because it was my passion and my hobby."
Still, the perserverance hasn't gone unnoticed – by garnering support from a broad array of the world's top jocks like Armin van Buuren, Tiësto, David Guetta, Avicii, Calvin Harris, Steve Aoki and Sander van Doorn, Ummet Ozcan has solidified his position at the forefront of all-star EDM Producers.
Ummet is known as well for his softsynth and soundbank design for well established music software houses like Rob Papen (Albino, Predator) and Acces Music (Virus). In between shows and studio jobs he is developing music software for the producers community that will pave the way for a fresh new musical experience in EDM.
Tickets – On Sale 8/12 @ 10am est
Local Support –
BASOMATIK
www.fb.com/basomatik | www.soundcloud.com/basomatik
Shanta
www.fb.com/shantaofficial | www.soundcloud.com/shantaofficial
&
Nasty Nat3
www.fb.com/nastynat3 | www.soundcloud.com/nastynat3
Doors: 10p-3a
Ages: 18+ Welcome
Tables: (813) 690-0938
www.amptampa.com