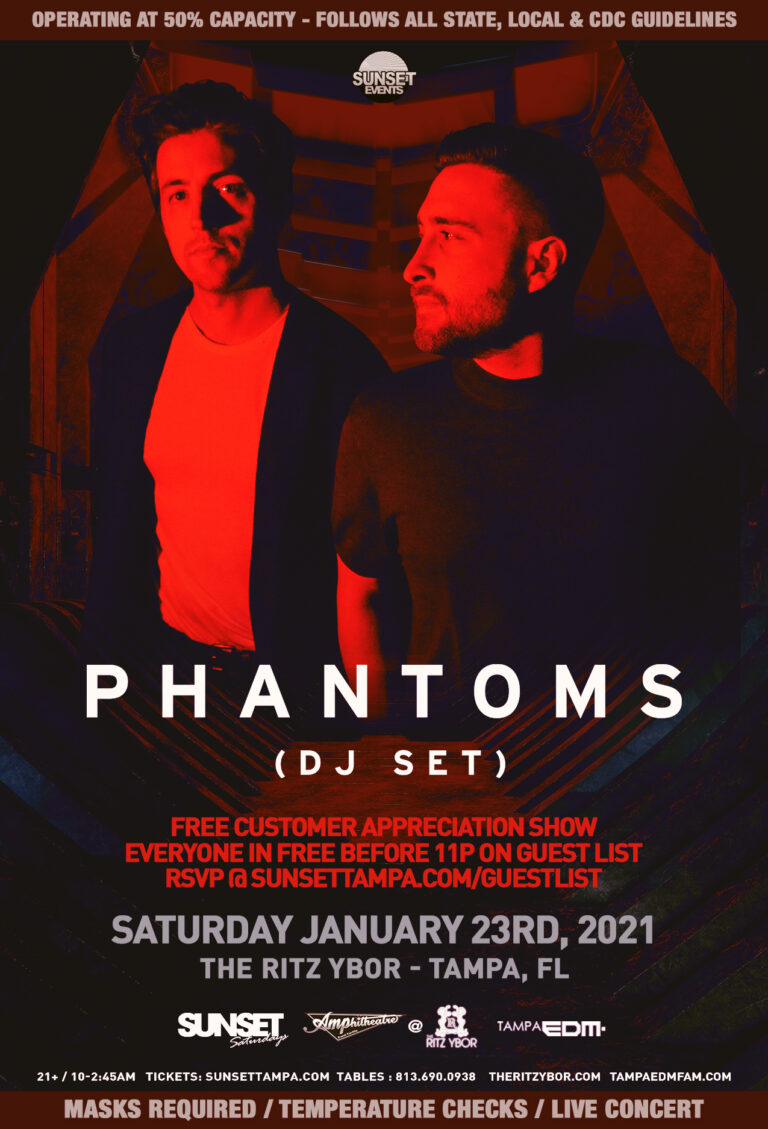 Phantoms (dj set) for Sunset Saturdays at The RITZ Ybor – 1/23/2021
Buy Tickets
Sunset Events in Association with Tampa EDM present:
PHANTOMS (dj set)
Saturday – January 23rd, 2021 – at The RITZ Ybor for SUNSET SATURDAYS – Live in Concert
REDUCED CAPACITY & AGE RESTRICTIONS || 21+
FREE CUSTOMER APPRECIATION SHOW
EVERYONE IN FREE BEFORE 11 PM ON THE GUEST LIST
POST YOUR NAME ON THE FACEBOOK EVENT PAGE WALL BEFORE 9 PM DAY OF SHOW TO SIGN UP

GUARANTEED ENTRY TICKETS: hive.co/l/phantoms0123
with support from…
KYLE KINCH
Doors: 10 PM-3 AM
Ages: 21+
The Amphitheatre at The Ritz Ybor
1503 E. 7th Ave – Tampa, FL 33605
www.theritzybor.com
Bottles Call: (813) 690-0938
More Info: www.theritzybor.com
————————–———————-
We are pleased to provide the update that our doors have re-opened!
We have changed a bit since closing doors, but one thing has remained the same: our commitment to the health and safety of our customers and staff. We are continuing to follow all cleaning and sanitation recommendations, as well as taking important precautions as follows:
– We have increased the deep cleaning frequency of all rooms, common areas, restrooms, and all commonly touched surfaces. Cleaning roamers during operation.
– Disinfectants used are effective in killing COVID-19 germs and other related pathogens.
– Hand sanitizer is available throughout the venue, and we encourage you to wash your hands upon arrival.
– We do have masks provided to our staff and customers. Masks are required in line & inside the venue. If you do not have a mask, one will be provided for you.
– We will be operating under 50% capacity.
– We will be taking all Staff's temperatures and all customers before entering.
– We will continue to ask you to stay home should you have a cough or fever, per CDC suggestions.
– We have placed plexiglass sneeze guards at the front door ticket scan and sales counter.
– You will now have some new directions for entering and exiting, and all reentry will now reenter thru the main entrance line.
– We have added signage for social distancing, restroom capacity, new enter and exit signs for separation, and no standing at bar signs.
– We will keep restrooms at a limited capacity.
– We will have more distance within our table service area and limit persons per table.
– Due to the reduced capacity in operations, we will have an increase in our table service capacity. For Table service please call 813-690-0938
Our team is committed to providing the best experience and the highest level of care to remain safe at all times.
We will see you soon!