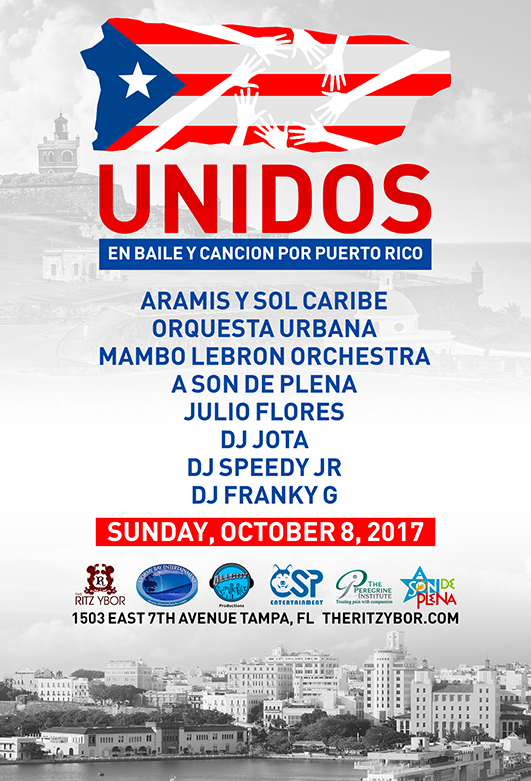 One Dance, One Cause FREE Benefit Concert for Puerto Rico at The Ritz Ybor – 10/8/2017
Event Cancelled
Free Event
With the help of many of Tampa Bay's best musicians, join them on Sunday, October 8, 2017 as they come together for one cause and thru their love of music and for the Island of Puerto Rico.
This event is a free and open to all ages.  Family friendly.
We will be collecting items to then be delivered to: Course Of Action PR, 4916 S. Lois Avenue, Tmpa, FL
Performers include:

Orquest Urbana
Aramis Y Sol Caribe
Mambo Lebron Orchestra
A Son De Plena
This event is made possible by the support of friends at:
The Ritz Ybor
Sunset Events
CSP Entertainment
Pipe Promotions
Peregrine Institute
Stormy Bay Entertainment
All-City Productions
Please find an updated list of items that we will be looking for:
—- UPDATED LIST OF DONATION ITEMS —-
Drop off location: 4916 S Lois Avenue, Tampa, FL
Times: Monday – Saturday from 11:00am – 7:00pm
Rice, Beans, Canned food/non-perishable food, Nutrition bars, Tuna packets (not canned), Drink boxes/packets (juice boxes), Baby supplies (bottles, diapers, baby wipes, formula, cereal, shampoo, baby lotion, baby powder, etc.),
Small and large generators, Adult diapers and supplies for the elderly, Regular wipes, Water purifiers, Water purification kits, Manual can openers , Clean/new gas cans, Dog/cat food, Personal hygiene/bath care items, Medical supplies (bandaids, peroxide, bandages, etc.), Paper towels, New Towels, Cots, Air mattresses, New Pillows, Blankets, Toilet paper, Hand sanitizers, Flashlights, Batteries (AA, C, D, 9V), LED work lights, Walkie talkies/two way radios, Rope, Bailing wire, Tarps, Long extension cords, 12V to 120 volt power inverters, MRE's (Meals Ready to Eat), Solar panels for charging batteries, Cell phone chargers, Basic tool kits, Shovels, Hand saws, Power saws, Chainsaws, Drills, Mosquito repellent, Duct and electrical tape
We have enough clothes and water. If anything changes, we'll update through the Course of Action PR page.
Also, we're in need of some expendable goods to continue fundraising efforts: Palettes, Palette jacks, Palette saran wrap, Clear packing tape
For monetary donations:
https://www.gofundme.com/ecwamm-donations-for-puerto-rico
For more information text/call Ysmael at 813-508-3544
email: Stormybaytv@gmail.com