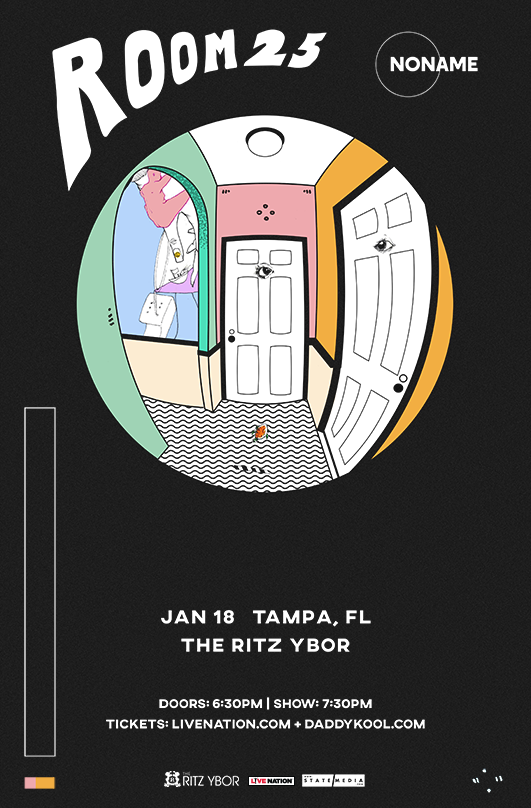 Noname at The RITZ Ybor – 1/18/2019
Buy Tickets
Live Nation + No Clubs present
Noname
Friday, January 18, 2019
w. Elton Aura
Doors: 6:30pm | Show: 7:30pm
Tickets are available online at livenation.com + daddykool.com
VIP: vip@theritzybor.com (VIP is ages 21+ only)
The RITZ Ybor
1503 E 7th Ave – Tampa, FL 33605
www.theritzybor.com
---
Noname (born Fatimah Warner) is an American artist from Chicago, Illinois, who blurs the lines of poetry and rap through the music she creates.
Noname grew up in Bronzeville, a historic neighborhood on the southside of Chicago that famously attracted accomplished black artists and intellectuals of all types. Noname first discovered her love for words while taking a creative writing class as a sophmore in highschool.
She became enamored with poetry and spoken word- pouring over Def Poetry Jam clips on YouTube and attending open mics around the city. Noname regularly attended and performed at an open mic at Harold Washington Library- YouMedia's Lyricist Loft.
After sessions at YouMedia, Noname would participate in cyphers and started getting into freestyling. When she was just a senior in highschool, she placed third in "Louder Than A Bomb", a poetry competition with 120 Chicago high schools in participation. She remained connected with the artists she met at YouMedia and in 2013, her verse on Chance the Rapper's "Lost" attracted the beginning of her large fan base, most of whom have been following her every move since.
On July 31st Noname released her debut project entitled Telefone which was 3 years in the making and highly anticipated by fans and media alike. Instantly the project gained critical acclaim with a rave review by Pitchfork and landing her praise from major outlets like Rolling Stones, Complex and Dazed & Confused. Noname has been hailed by The FADER, Complex, and Rolling Stone as one of the most exciting and important new artists of 2016.
Thanks to Telefone's success, Noname played some shows in support of Ms. Lauryn Hill, who hand-picked Noname to open for her on tour. When first approaching the project, Noname set out to emulate the feeling of talking on the phone with someone for the first time. She describes Telefone as "an introductory conversation with someone you're interested in". But as Noname continued to work on the tape, it also transitioned a bit into mortality: the idea of life and death and the duality between those two things.