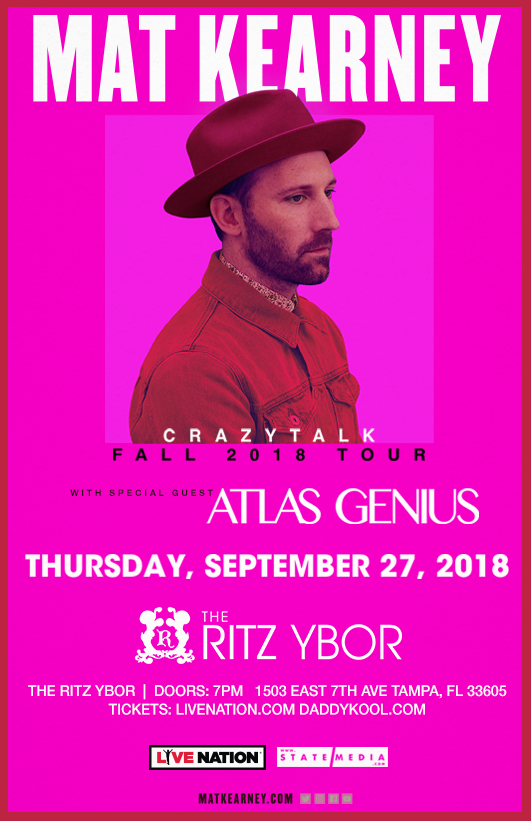 Mat Kearney CRAZYTALK Fall Tour 2018 w/ Atlas Genius at The RITZ Ybor – 9/27/2018
Buy Tickets
Live Nation Florida + No Clubs presents
Mat Kearney
CRAZYTALK Fall Tour 2018
Thursday, September 27, 2018
w/ Atlas Genius
6:30pm
Ages 12+
Tickets are available online at LiveNation.com + DaddyKool.com
VIP: vip@theritzybor.com (VIP is ages 21+ only)
The RITZ Ybor
1503 E 7th Ave – Tampa, FL 33605
www.theritzybor.com
———-
Years before he toured the world as a platinum selling, boundary-breaking artist, Mat Kearney grew up in Eugene, Oregon. It was during those teenage years that he developed his love for classic songwriting — the kind that transcends generations and genres. He'd strum chords on a friend's acoustic guitar, paving the way for a career that would eventually take him far away from Eugene.
Much has changed since those days in the Pacific Northwest. Even so, Kearney hasn't forgotten his musical roots. On his fifth album, CRAZYTALK, he mixes his most timeless songwriting to date with a wide, genre-bending set of interests. There are organic instruments, electronic samples, chill house grooves, tropical sounds, and collaborations with DJs like AFSHeeN ,filous, and RAC all glued together by an emphasis on ageless hooks and thought-provoking lyrics. The result is one of the most adventurous, nuanced albums of his acclaimed career, filled with EDM drops one minute and acoustic guitars the next.
It's a sound that nods to Kearney's history as a melody-driven songwriter, even as it pushes him into new territory.
"Back in Oregon, I was a punk skater kid who fell in love with Lauryn Hill, Tribe Called Quest, and Bel Biv Devoe," he says. "At the same time, I also loved playing my buddy's guitar. In a way, I'll always be that kid, drawing from the influences I grew up with."
Combing classic songs with modern, beat-heavy production, CRAZYTALK offers up a sound that's both cerebral and visceral. It's music for the head and the heart, but it's also music for the dance floor.
"At my core, I'm a songwriter," adds Kearney, who produced half of the album in his home studio in Nashville. "I wanted to explore new production ideas with this album, though, to see how I could frame these songs in a different way. CRAZYTALK has some deep house influences, some African samples, some tropical sounds, and a lot of electronics — things that wouldn't normally be found in a singer/songwriter record — juxtaposed with some classic songs. It's a sound that really occupies its own lane."
Inspired in part by the birth of his first child in January 2017, Kearney found himself writing CRAZYTALK's lyrics with a new, mature perspective. He'd been a traveling songwriter for more than a decade, releasing three Top 20 albums along the way. The sound he helped introduce with his major-label debut, 2006's Nothing Left to Lose — a record that combined the bright sounds of pop music the with darker, harder-hitting influence of hip-hop — had since become one of the most common genres of the 21st century, with chart-topping artists like Ed Sheeran and Twenty One Pilots all following in his footsteps. His legacy already established, Kearney felt comfortable broadening his songwriting, filling CRAZYTALK with songs that embraced an older, wiser point of view.
"I realized I didn't need to make every song a 'young love story,'" he says. "I'm comfortable writing music from a perspective of having been around the block a few times, because that's how I am in real life. The result is some beautiful, wise songs that sound like they've been well-traveled."
The album's opening track, "Better Than I Used to Be," takes a look at those early days in Kearney's backseat. It's a song about growing tall without forgetting your roots, laced with vocal effects, programmed percussion, and the familiar croon of Kearney's voice. That voice takes center stage on slower tracks like the modern, minimalist "Memorized" and a nuanced cover of Sade's "By Your Side," with both songs proving that CRAZYTALK doesn't need lush, layered production to pack a punch.
On album highlights like "Kings & Queens," though, Kearney makes room for an arsenal of instruments. He played many of them himself, beefing up the mix with digital samples and electronic flourishes. The album's songs were written in a similar way, with Kearney taking inspiration from organic instruments as well as synthesized loops.
"I'm a 50/50 guy," he explains of his songwriting process. "I'll sit down with my acoustic guitar and write a song, but I'll also start with a beat, and then expand it into a song, like it was a hip-hop track. Those worlds can be opposites, but I've always played with both. I wrote the song 'Face to Face' on a ukulele, then added some percussion that sounded like 90s R&B. I wrote 'Sleeping at the Wheel with country songwriting legend Ross Copperman, then took it back to my studio and added an African sample with from a Bela Fleck record."
Released May 4th, CRAZYTALK also marks Kearney's first project as an independent artist. A major-label veteran whose previous albums were issued by Columbia and Republic, Kearney felt the need to create his fifth album with complete freedom.
"I'm now footing every bill and paying for every flight," he says, "but it's beyond worth it. At this season of my life, putting out my fifth record, I really needed to take control creatively. I needed to take my own chances and combine these sounds that've been running through my head since I was a kid. I knew that some of it would like crazy talk to others, but that just gave me more fuel for the fire… as well as a name for the album."