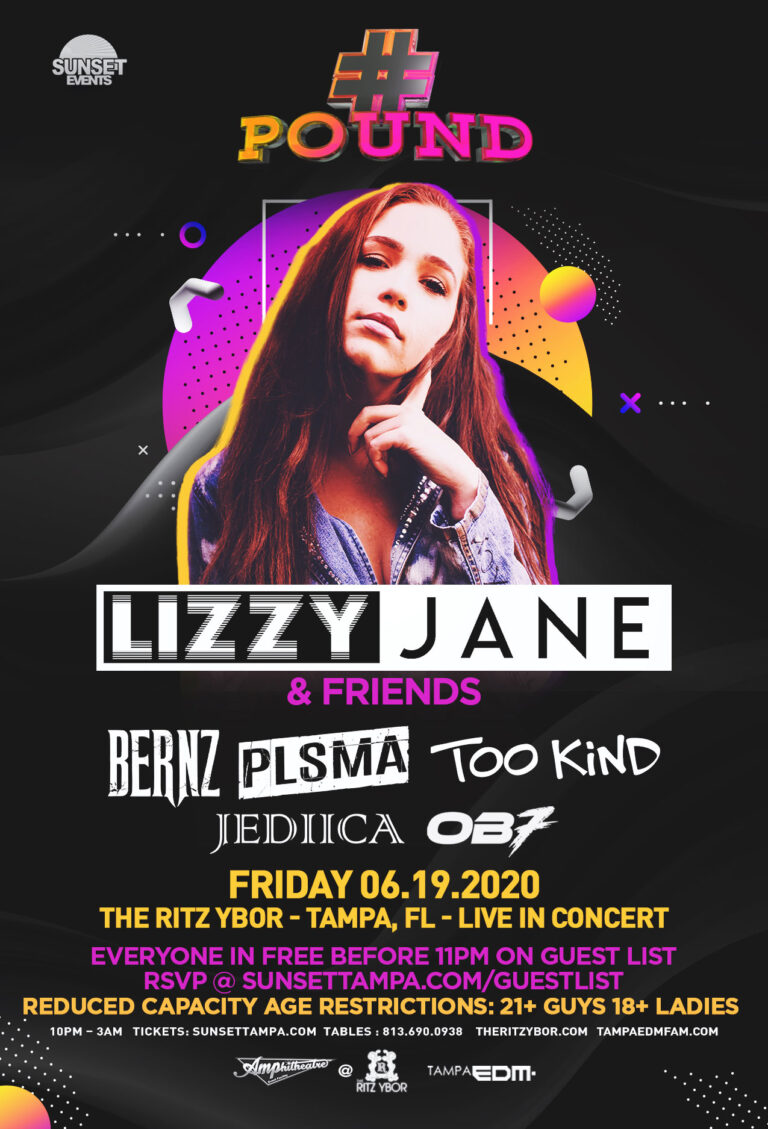 Lizzy Jane & Friends for #Pound Fridays at The RITZ Ybor – 6/19/2020
Buy Tickets
Sunset Events in Association with Tampa EDM present:
#POUND FRIDAYS
LIZZY JANE & FRIENDS
Friday – June 19th, 2020 – at The RITZ Ybor for #POUND FRIDAYS – Live in Concert
REDUCED CAPACITY & AGE RESTRICTIONS || 21+ GUYS / 18+ LADIES
EVERYONE IN FREE BEFORE 11 PM ON THE GUEST LIST!
SIGN UP BY PUTTING YOUR NAME ON THE FACEBOOK EVENT PAGE WALL
with music from…
LIZZY JANE
BERNZ
PLSMA
TOO KIND
JEDIICA
OB7
Doors: 10 PM-3 AM
Ages: 21+ Guys & 18+ Ladies
The Amphitheatre at The Ritz Ybor
1503 E. 7th Ave – Tampa, FL 33605
www.theritzybor.com
Bottles Call: (813) 690-0938
More Info: www.theritzybor.com
————————————————
We are pleased to provide the update that our doors have re-opened!
We have changed a bit since closing doors, but one thing has remained the same: our commitment to the health and safety of our customers and staff. We are continuing to follow all cleaning and sanitation recommendations, as well as taking important precautions as follows:
– We have increased the deep cleaning frequency of all rooms, common areas, restrooms, and all commonly touched surfaces. Cleaning roamers during operation.
– Disinfectants used are effective in killing COVID-19 germs and other related pathogens.
– Hand sanitizer is available throughout the venue, and we encourage you to wash your hands upon arrival.
– We do have masks provided to our staff and customers. Masks are required in line & inside the venue. If you do not have a mask, one will be provided for you.
– We will be operating at 50% capacity.
– We will be taking all Staff's temperatures and all customers before entering.
– We will continue to ask you to stay home should you have a cough or fever, per CDC suggestions.
– We have placed plexiglass sneeze guards at the front door ticket scan and sales counter.
– You will now have some new directions for entering and exiting, and all reentry will now reenter through the main entrance line.
– We have added signage for social distancing, restroom capacity, new enter and exit signs for separation, and no standing at bar signs.
– We will keep restrooms at a limited capacity.
– We will have more distance within our table service area and limit persons per table.
– Due to the reduced capacity in operations, we will have an increase in our table service capacity. For Table service please call 813-690-0938
Our team is committed to providing the best experience and the highest level of care to remain safe at all times.
We will see you soon!