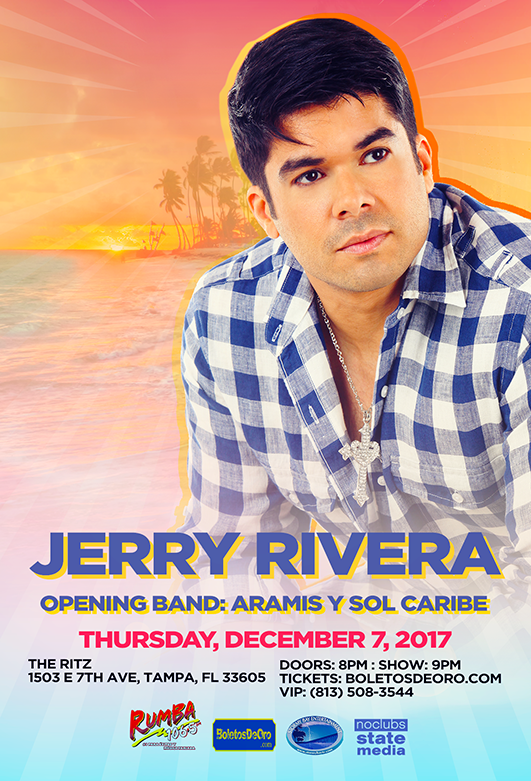 Jerry Rivera at The Ritz Ybor – 12/7/2017
Buy Tickets
Jerry Rivera live at The RITZ Ybor on Thursday, December 7, 2017.
Join us for this great night of Salsa featuring one of the premier voices of Salsa. Jerry Rivera, Grammy Nominated and Multi-Platinum salsa singer from Puerto Rico. Doors open at 8pm.
The night will also feature a performance by Tampa's own Aramis Y Sol Caribe to open the show.
This will be a "Concierto Bailable" offering you a great night with live music.
Tickets are now available at the locations listed below:
Salsa World at The Round Up (Wednesday)
10051 W. Hillsborough Ave, Tampa , FL, 813-508-3544
Noches De Cache at Mojitos (Saturday)
5303 W. Kennedy Ave, Tampa, FL 813-503-2756
La Pequeña Colombia
6312 N. Armenia Ave, Tampa, FL 33604, 813-876-8338
La Borinqueña on Wheels
8340 N. Armenia Ave, Tampa FL , 813-330-0066
El Cantinazo Restaurant & Bar
2862 Gulf to Bay Blvd, Clearwater, FL 33759, 727-386-4901
Los Gorditos – Tampa/Brandon
6110 Causeway Blvd, Tampa, FL 33619, 813-246-4811
La Fondita De Leo
528 Cleveland St, Clearwater, FL 33755, 727-447-4800
Ivan's Auto Detail
2903 W. Armenia Ave, Tampa, FL 33607, 813-309-9991
VIP Tables: 813-508-3544
Tickets are also available online via Ticketmaster.com + DaddyKool.com + Boletosdeoro.com
——————————————–
Check out more events at www.theritzybor.com + www.theritzybor.com