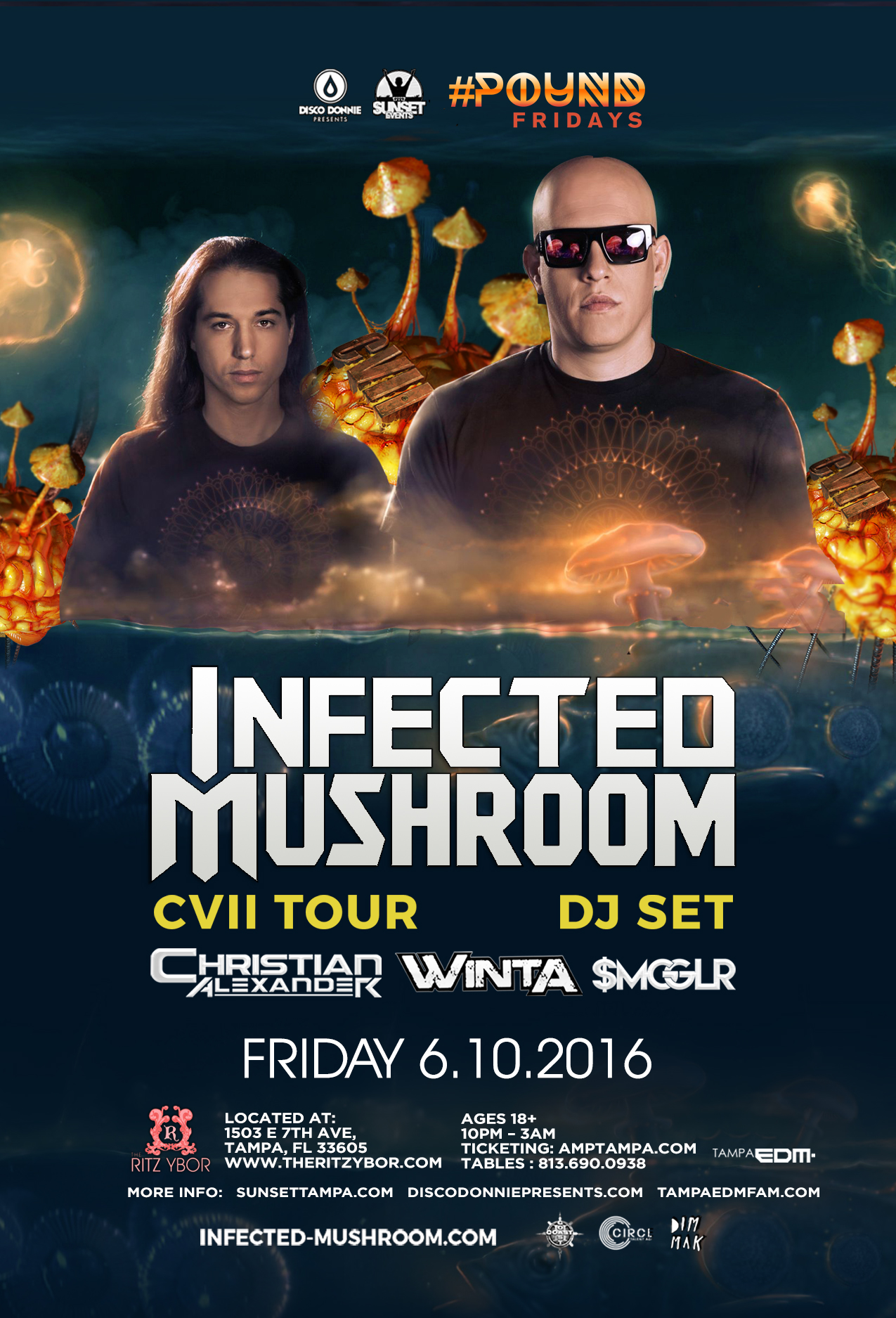 Infected Mushroom at The Ritz – #POUND Fridays – 6/10/2016
Buy Tickets
On Friday, June 10th we're bringing INFECTED MUSHROOM back to TAMPA! The party will be held at The Ritz Ybor as the rebuild continues at The AMP — Don't miss this psychedelic edition of #POUND Fridays!
Electronic dance music (EDM), mega-legends Infected Mushroom best known as the sonic innovators of the "Psychedelic (Psy) Trance" genre. Twice ranked amongst the world's "10 Best DJ's" by the Bible of the Scene (U.K.'s DJ Magazine) and with over 14 million hits on YouTube and a #8 position on the Billboard chart, the Israel-bred, L.A. based duo Amit "Duvdev" Duvdevani and Erez Eisen have created their "music kingdom" as one of the most powerful in the EDM scene.
Following a 3-year legacy of success from Infected's 2009 album The Legend of the Black Shawarma. Erez and Duvdev deliver their most multi-faceted electronic album delivery to date in three years–"Army of Mushrooms" (May, 2012 Dim Mak Records).
Adoring fans continue to congregate en masse for Infected Mushroom's 120/year jaw-dropping live shows including psychedelic visuals that lay as the backdrop for enigmatic vocals, hypnotic arrangements, and psy-trippy synthetic rhythms . . . All walks of life gather in attendance for the same reason: to experience Infected Mushroom, the world's greatest Psy-Trance band of the decade.