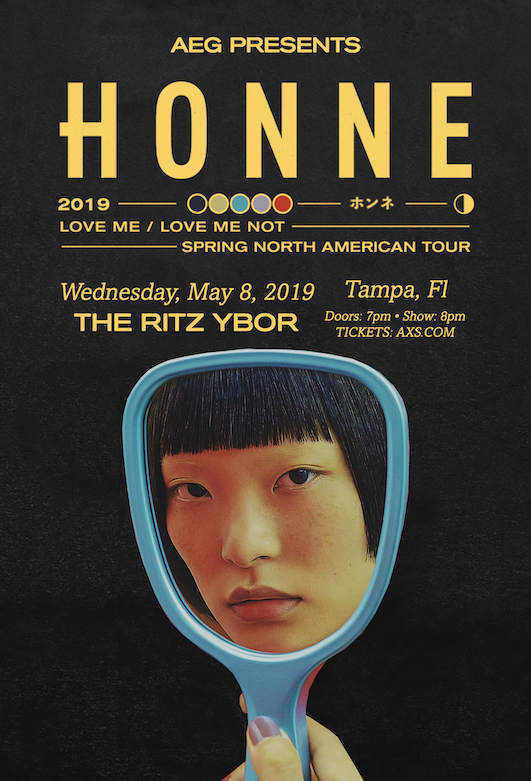 HONNE at The RITZ Ybor – 5/8/2019
Buy Tickets
AEG Presents
HONNE
Wednesday, May 8, 2019
Doors: 7pm | Show: 8pm
Tickets are available online at axs.com
VIP: vip@theritzybor.com (VIP is ages 21+ only)
The RITZ Ybor
1503 E 7th Ave – Tampa, FL 33605
www.theritzybor.com
---
HONNE's hugely-accomplished second album, 'Love Me / Love Me Not', captures the duality of life's ups and downs, with half the tracks exploring life's positives – love, nostalgia and contentment (Love Me ?) and the other half life's great difficulties – heartbreak, anxiety and grief (Love Me Not ?). The album draws heavily upon the balancing act of navigating between two states at once: whether it's the honeymoon period high of a relationship, the frustration of a long-distance separation or the fear of losing someone close, HONNE's lyrics dial in at the reality of most people's lives. Appropriately, the band have already built themselves a truly global audience, with over half a billion streams, sold-out tours, and several surprises along the way (see a triple-platinum album in South Korea). Theirs is a truly modern success story which is pushed further still in the split rollout of second album 'Love Me / Love Me Not' – a record which acknowledges that for every peak, a challenge is round the corner, and equally that whenever life overwhelms you, better times are ahead.
Those twinned experiences are further explored in two new HONNE tracks, also unveiled today: the effortlessly uplifting funk of new single 'Me & You ?', which features a musical turn from Tom Misch, and the darker, more melancholic 'I Just Wanna Go Back ?'. Listened to together, both reflect the richer, more textured range of influences across 'Love Me / Love Me Not' as a whole, with production variously inspired by everything from Kaytranada, BadBadNotGood and Pharrell to Dr. Dre and DJ. Dahi.
HONNE's sometimes-awkward, always-positive portraits of 21st century romance, masculinity and modern city living has seen them bring together a diverse community of audiences around the world. And despite testing new boundaries, 'Love Me / Love Me Not' ultimately sees the band's earliest ambitions come into even clearer focus. They cite the group's name ("Honne" meaning your true feelings, those you keep to yourself), the name of their early record label ("Tatemae", which reflects what you display in public), plus the fact that this dichotomy between an online persona and actual reality has become starker since when they first started making music. "Those two sides have been rooted in us from the beginning, but now is the first time we've truly demonstrated it. One doesn't exist without the other, and so this time these songs have to be there together. A lot of films and TV shows either explore the good or bad, but we wanted to show a balance and the grey space." And it's in those in-between spaces that HONNE have truly found themelves, and a work of timely, timeless songwriting.