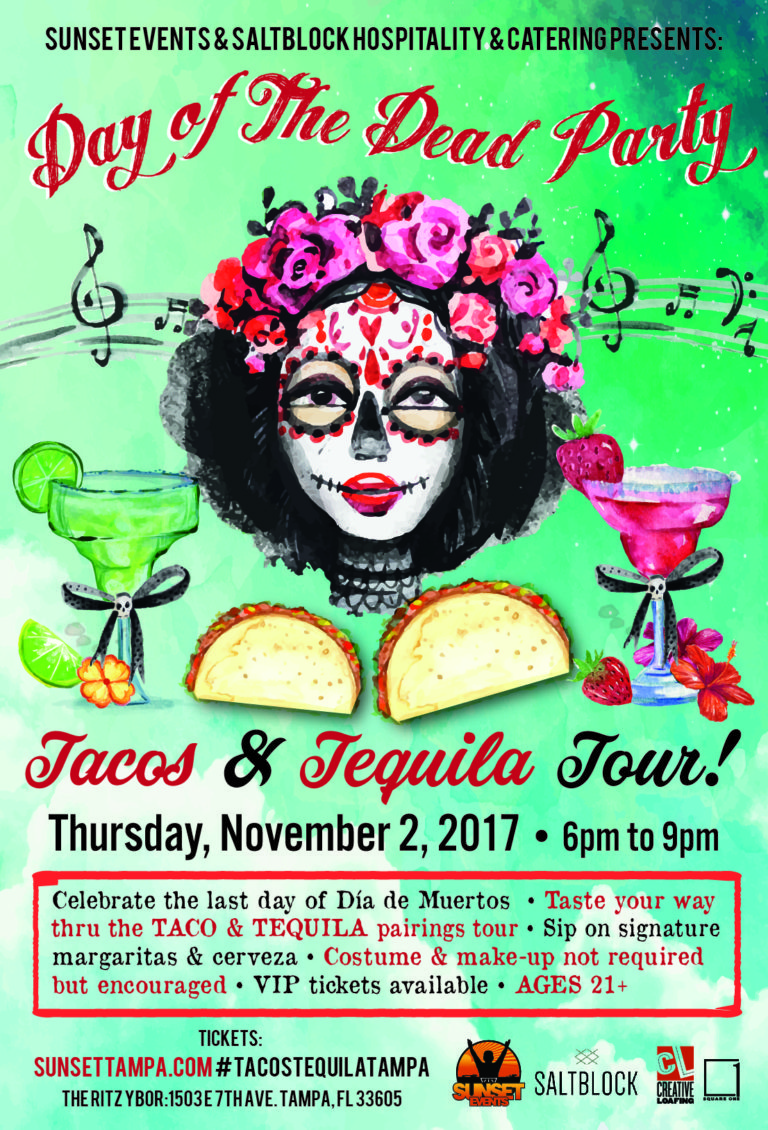 Day of the Dead Party: Tacos & Tequila Tour at The Ritz Ybor – 11/2/2017
Buy Tickets
Sunset Events + SaltBlock Hospitality + Catering presents
Day of The Dead Party
Taco & Tequila Tour
Thursday, November 2, 2017 • 6pm to 9pm
Street Taco Stations + Tequila Tastings + Signature Margaritas
+ CELEBRATE the last day of Día de Muertos
+ TASTE your way thru the Taco & Tequila Cazadores pairings tour
+ SIP on signature margaritas & cerveza
+ Event Sounds by DJ Christian Alexander
+ Costume & make-up not required but encouraged
+ VIP tickets available • Ages 21+
TICKETS: General Admission ticket includes six (6) tasting tickets for any of the taco & drink pairings. Additional tasting tickets available for purchase.
VIP ticket includes skip-the-line privileges with a VIP only entrance, access to the VIP areas, unlimited taco & drink tastings in the VIP areas, and six (6) tasting tickets.
PARKING: The Centro Ybor parking garage is conveniently located directly behind The RITZ Ybor, while a 717 Parking Lot is conveniently located across the 15th Street from the venue. The Broadway parking lot is located diagonally from The RITZ Ybor with its entrance on 8th Avenue between 14th & 15th.
————————————————–
The RITZ Ybor is a historic special events and concert venue located at 1503 East 7th Avenue in Tampa, Florida 33605
#TacosTequilaTampa