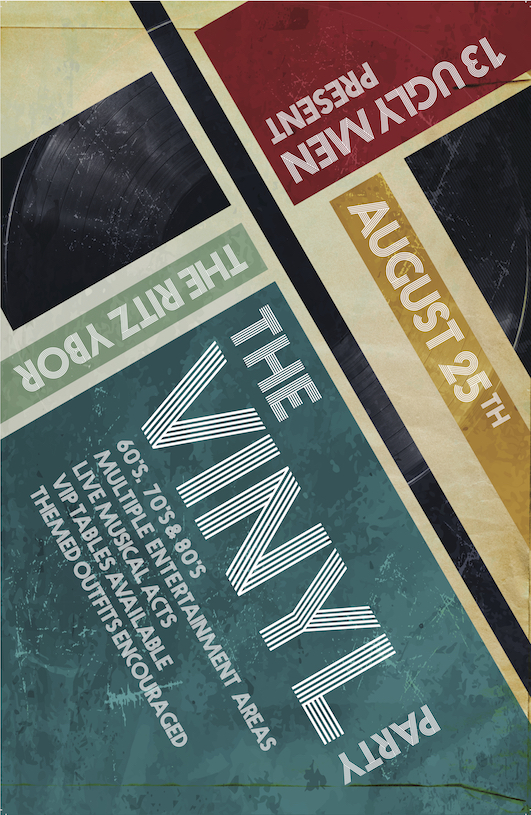 13 Ugly Men present The VINYL Party at The RITZ Ybor – 8/25/2018
Buy Tickets
The 13 Ugly Men Foundation, Inc. a 501(c)3 not-for- profit organization is excited to announce their newest event "The VINYL Party" on Saturday, August 25 at the The RITZ Ybor in Historic Ybor City. "VINYL" is set to take you back to the glam rock & pop era where spinning records was a thing. Inspired by groovy days, disco nights, hair raising guitars, & when MJ was the king.
This will be a themed event that will feature 60's, 70's, & 80's style music & décor. As with most 13 Ugly Men events, costume attire is encouraged and a good time is mandatory. Doors to the event will open at 8pm and run until 3 am with a night full of controlled debauchery. State of the art lighting, sound, DJ's & more, will take center stage for this years event that will feature multiple themed rooms.
Advance tickets are available for $30.00 for Women & $40.00 for Men. Proceeds from the event will benefit on bikes which is a non-profit organization on a mission to bring bicycles to local kids in our local Tampa Bay area communities.
The RITZ Ybor
1503 E 7th Ave – Tampa, FL 33605
www.theritzybor.com
The VINYL party
from
13 Ugly Men
on
Vimeo
.